The self-propelled compost turner is an important organic fertilizer fermentation machine. And it has strong adaptability for different raw materials. Therefore, the moving composter can be widely used in flipping many kinds of raw materials.  You can know the specific information from the following.
Animal manure can be turned into quality organic fertilizer by using compost turner and other fertilizer equipment. If you are a livestock farm owner, we suggest to use our self propelled type compost turner to compost animal's excrement. If you are worried about excessive moisture in feces, we recommend that you use our solid-liquid separator. By using separator machine, material can reach the required moisture content for the compost production.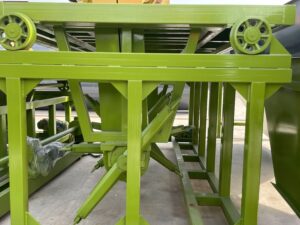 Agricultural waste is a good kind of available resources. Such wastes can be scientifically processed into high-quality organic fertilizers and returned to the soil. For the owner of the agricultural production base, you can crush these plant organic residues by using the crusher machine and start composting. The moving compost turner machine can greatly help the composting process.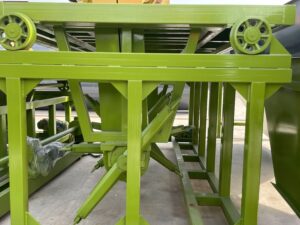 As mentioned above, you can use the self-propelled compost turning machine to process these materials. After flipping, these raw materials can be mixed evenly through the special structure of the self-walking compost turning machine. And after  fermentation, the uniform materials can become a high quality organic fertilizer.
How do we design the self-propelled compost turning machine ?
The design principle of the self-propelled compost turner is aerobic fermentation. However, why should aerobic fermentation be used in the production of organic fertilizer instead of natural fermentation? Because there are significant differences between natural fermentation and aerobic fermentation. You can understand the differences from the following.
Natural fermentation
it is a process of microbial fermentation under natural conditions. However, animal manure and agricultural waste contain unknown species of hazards such as germs and pests. Therefore,under natural conditions, these bacteria can not be killed, or even multiply, hindering the fermentation process. what's more, the natural fermentation period is long, the progress and the result are not controllable. and even the fermentation is not thorough.
Aerobic fermentation
Aerobic fermentation is a harmless organic treatment technology. You can also call it as aerobic composting technology. Aerobic fermentation can make the material in 24-28 hours of rapid heating, three days deodorization and become fertilizer in about 15 days. According to different treatment forms, aerobic fermentation can be divided into groove fermentation, windrow fermentation and container fermentation. By using the composting turner machine, you can increase the area and times of materials contact with the air. At the same time, excess water can also be evaporated. Because of this special process, the aerobic fermentation can greatly shorten the fermentation period. This type of fermentation can also kill the harmful flora, retain the beneficial flora. The result of the fermentation can be guaranteed.
What's the Structure of self-propelled windrow compost turner?
The main structures of the self-propelled turning and polishing machine are as follows:
According to mentioned above, the whole structure of the compost turner machine is reasonable. Moreover, the whole windrow compost turner machine performance is safe and reliable. Also ,It is easy to operate for workers.
Here is the techinical parameters about XZFPJ2000 movable type self propeleld compost turner. The following table is for your reference.
| Model | Composting Width | Working Span | Roller Dia. | Sizes |
| --- | --- | --- | --- | --- |
| XZFPJ2000 | 2000MM | 600-800MM | 600MM | 2100*2600*2700mm |
| Power | Heights | Particle Size | Production capacity | Weights |
| --- | --- | --- | --- | --- |
| 27.5HP | 600-800MM | 250MM | 400-500CBM/HOUR | 1500KG |
What Is the Cost of Self Propelled Compost Windrow Turner?
Self propelled compost windrow turner cost changes with its model and technical specification. There are two types of self propelled compost turner machines for windrow composting. They are movable compost turner and crawler type compost turner. They are on sale at the different prices. You can get the details about these two composting machines from the following.
Small scales composting machine–movable compost turner
Movable composting machine is more suitable for small-scale organic fertilizer production plant. It can turn 400-500 m³ of animal manure per hour. The machine price is lower than other composting machines. You can get a moving composting machine at the price of $5,000-$6,000. For different composting scales, FPC produces four-wheel compost windrow turners with different technical parameters. All of them are on sale at the favorable price. Welcome to contact us to get the latest price list.
How much is the crawler type compost turner?
The price of crawler type composting machine is higher than that of movable compost turner. You can get a crawler type compost windrow turner at the budget of $12,000-$65,000. The crawler-type compost turners of different prices have different production capacities. For example, SXLDF-2400 crawler type compost turner machine can turn 500-700m³ organic manure per hour. SXLDF-3000 crawler composter has the capacity of 1500m³/h. There are also other models of crawler type compost turning machine in FPC. Welcome to consult.
From the above, you can know that the windrow turners are on sale at the different prices. What's more, the machine price will change as the market. Therefore, the above date is just for your reference. You can get the newest information about the windrow compost turner from us. We can provide you with quality compost turner machine and perfect service. Please email to us for free inquiry.
What benefits can I get from self-propelled compost turner?
While composting the organic manure, you can get many benefits through using the self propelled windrow compost turner. For example, you will  improve the working environment, produce quality fertilizer and make more benefits. You can know more the detailed information from the followings.
Through the above, you can know more about benefits of the self-propelled compost turner. Hence, why don't you use the self-propelled windrow composting machine if it can bring many benefits to you? What's more, you can also choose the right compost turner machine according to your organic fertilizer production project.