The Double Roller Extrusion Granulator
The double roller extrusion granulator is a dry fertilizer pellet making machine. It is wildly used in compound fertilizer production industry. The roller press granulation machine manufactured from FPC is highly praised by the fertilizer producers. It is precisely because there are many advantages about FPC double roller press granulator. You can know top 4 advantages about the roller extrusion granulation equipment from the following.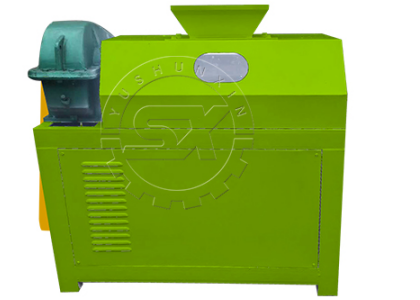 In order to meet customers' different production requirements, we manufacture the double roller press granulator with strong adaptability. The customers can granulate the zinc sulfate, potassium sulphate(SOP), potassium chloride, ammonia chloride, ammonia sulfate, magnesium sulfate,sodium chloride,etc with fertilizer roller press pellet making equipment.
In order to improve the working efficiency and reduce the machine maintenance, we adopt the quality materials to produce the double roller press granulator. For example, we use Q235 boiler steel as the whole machine bracket. For the working part, we use the 20GrMoTi as the roller sheet materials. Therefore, the roller can be used at least 6 months.
The double roller press granulation equipment produced from FPC can make the quality organic and compound fertilizer pellets. When granulating, the roller press pellet making machine can granulate the powder raw materials with 5%-10% moisture. After granulation, the customers can get the fertilizer pellet with diameter of 3-10mm and 15-20N hardness.
The double roller extrusion granulator adopts the dry granulation method. Therefore, there is no need to dry and cool fertilizer pellets after granulation. The fertilizer manufactures can pack the granules directly. In this way, customers can save the cost of fertilizer drying and cooling machine. Thus, the press granulator is the cost-effective fertilizer making machine.
The above four points are about the double roller press granulator. The data is for your reference only. There are many models of the press granulation machine in FPC. You can provide us with your production plan. Then we can offer you the ideal extrusion pellet making machine.