Pan granulation machine adopts wet granulation method.  It has up to 93% granulate rate. the disc granulation equipment is equipped self-cleaning device. Therefore, it can make full use of raw materials to make fertilizer pellets. What's more, it has a durable and never deformed plate bottom. The disc granulator can operate smoothly when starting. It is suitable for organic and compound fertilizer pellets production.
1-6 tons per hour capacity

over 93% pellet rate

Long service life

Customization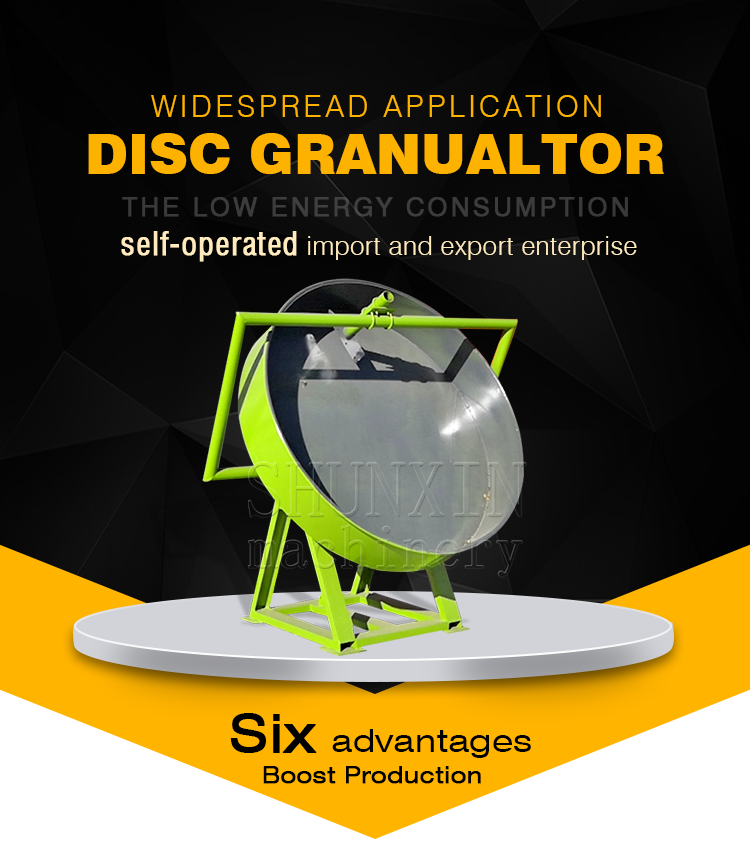 Here are technical parameters about different models of pan granulator, such as SXYZ-500,SXYZ-1000,SXYZ-1800. The data is just for your reference.
| Model | Diameter of disc (mm) | Edge of Height(mm) | Rotary Speed(r/min) | Motor(kw) | Reduceer Model | Capacity(t/h) | Dimensions(mm) |
| --- | --- | --- | --- | --- | --- | --- | --- |
| SXYZ-500 | 500 | 200 | 32 | 0.55 | BWY0-43-0.55 | 0.02-0.05 | 650×600×800 |
| SXYZ-600 | 600 | 280 | 33.5 | 0.75 | BWY0-43-0.55 | 0.05-0.1 | 800×700×950 |
| SXYZ-800 | 800 | 200 | 21 | 1.5 | XWD4-71-1.5 | 0.1-0.2 | 900×1000×1100 |
| SXYZ-1000 | 1000 | 250 |  21 | 1.5 | XWD4-71-1.5 | 0.2-0.3 | 1200×950×1300 |
| SXYZ-1200 | 1200 | 250 |  21 | 1.5 | XWD4-71-1.5 | 0.3-0.5 | 1200×1470×1700 |
| SXYZ-1500 | 1500 | 300 |  21 | 3 | XWD5-71-3 | 0.5-0.8 | 1760×1500×1950 |
| SXYZ-1800 | 1800 | 300 |  21 | 3 | XWD5-71-3 | 0.8-1.2 | 2060×1700×2130 |
| SXYZ-2000 | 2000 | 350 |  21 | 4 | XWD5-71-4 | 1.2-1.5 | 2260×1650×2250 |
| SXYZ-2500 | 2500 | 450 | 14 | 7.5 | ZQ350 | 1.5-2.0 | 2900×2000×2750 |
| SXYZ-2800 | 2800 | 450 | 14 | 11 | ZQ350 | 2-3 | 3200×2200×3000 |
| SXYZ-3000 | 3000 | 450 | 14 | 11 | ZQ350 | 2-4 | 3400×2400×3100 |
| SXYZ-3600 | 3600 | 450 | 13 | 18.5 | ZQ400 | 4-6 | 4100×2900×3800 |